Bienvenue dans notre rubrique restaurants "amis des enfants" !
Vous cherchez un restaurant où vous et vos enfants pourrez profiter sereinement d'une délicieuse expérience culinaire ? Ne cherchez plus. Voici notre sélection de restaurants proposant des menus enfants et où des chaises hautes sont à votre disposition.
Suivez le guide et profitez d'un doux moment en famille !
Enfants bienvenus
Notre sélection de restaurants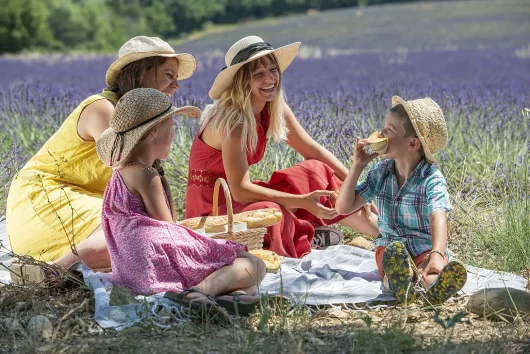 Déguster la Haute-Provence en famille
Ah, les enfants et les nouvelles saveurs, toute une aventure gastronomique ! C'est comme essayer d'apprendre à un ornithorynque à voler. Plus difficile que d'attraper une licorne arc-en-ciel !
Heureusement pour vous, chers parents aventuriers, nous vous promettons un voyage culinaire extraordinaire et sans embûches en Haute-Provence ! 
Imaginez-vous flânant dans un marché provençal coloré, rempli d'odeurs enivrantes et de produits frais. Vos enfants seront fascinés par les étals regorgeant de fruits juteux et de légumes croquants.
Une petite part de fougasse à l'anchois ? Un délice croustillant qui fera voyager leurs papilles. 
Pour le dessert ? Une glace à la lavande ! Oui, vous avez bien lu. La lavande, cette plante emblématique de la région, sublimée dans une glace onctueuse et parfumée. Une vraie surprise pour les papilles !
Alors, parents téméraires, n'ayez pas peur d'élargir les horizons gustatifs de vos enfants. Offrez-leur la chance de goûter à la magie de la Haute Provence. Qui sait, peut-être qu'ils deviendront de futurs chefs étoilés ?
Bon appétit !
Organisez vos vacances en famille !
Explorer la Haute Provence en famille est une excellente idée pour se créer des souvenirs inoubliables ! Activités et visites adaptées aux enfants, balades familiales, lieux pour les pauses goûter, restaurants qui proposent des menus adaptés aux enfants etc… Nous avons regroupé ici toutes les informations qui faciliteront l'organisation de votre séjour en famille !
Was this content helpful?
Thank you
Thank you for taking the time to let us know that this content was useful to you. Your encouragement is important to us, and your feedback helps us improve.
Thank you
Thank you for taking the time to let us know that this content was not useful to you. We apologize for the inconvenience.